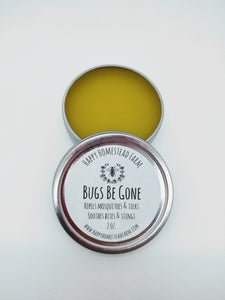 You asked for it, so we formulated it!  When our customers let us know that they were looking for an all natural, plant-based solution for mosquitoes and ticks, Dagny went to work on a solution.  She found it by infusing thyme from the Happy Homestead's Healing Garden with a combination of essential oils that work to protect you from those nasty insects.  Our Bugs Be Gone salve not only helps to repel mosquitoes and ticks, but it also helps soothe bites and stings after the fact if you happen to wander out without our salve in hand.  Just apply the salve to your exposed skin before you head into the wild beyond (or your back patio) and apply as needed to soothe bites and stings.
2 oz. 
Contains: Organic Olive Oil, Organic or Wild Crafted Thyme, Natural Beeswax, and Celery Seed, Citronella, Patchouli, Lemon Eucalyptus, Lavender, & Rosemary Essential Oils
These statements have not been evaluated by the Food and Drug Administration. This product is not intended to diagnose, treat, cure, or prevent any disease.