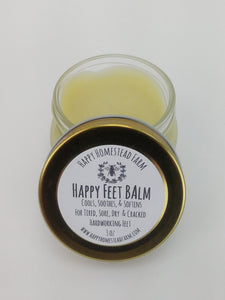 At the Happy Homestead, we understand the importance of happy feet. We've combined Calendula, Chamomile, and Lavender with Peppermint and Tea Tree to cool, soothe, and soften hardworking feet. If you suffer from dry, rough, calloused, or cracked skin on your feet, this is the balm for you. 
 Available in 3
 oz, 6 oz, or 8 oz.
Contains: Organic Olive Oil, Organic or Wildcrafted Herbs (Calendula & Chamomile), Natural Fair Trade Shea Butter, Organic Coconut Oil, Natural and/or Organic Beeswax, Organic Evening Primrose Oil, Peppermint, Tea Tree & Lavender Essential Oils
These statements have not been evaluated by the Food and Drug Administration. This product is not intended to diagnose, treat, cure, or prevent any disease.