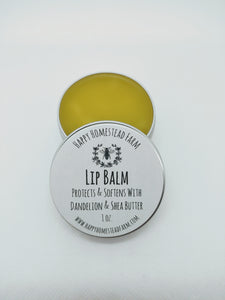 We wild harvested dandelions to try our hand at dandelion jelly in the homestead's kitchen but the dandelions never made it quite that far. After a little research, Dagny learned that dandelion lends itself beautifully to a nourishing lip balm so, instead, she infused the dandelion in Grapeseed oil to craft a lightweight base for our first foray into the world of lip balms. This lip balm help to protect and soften your lips without feeling heavy or tacky. It's our new favorite homestead creation and has been a hit at our summertime markets in Northern Michigan. 
1 oz. 
Contains: Natural Grapeseed Oil, Organic Olive Oil, Wild Crafted Dandelion, Natural Beeswax, Natural Shea Butter, Tea Tree Essential Oil
These statements have not been evaluated by the Food and Drug Administration. This product is not intended to diagnose, treat, cure, or prevent any disease.