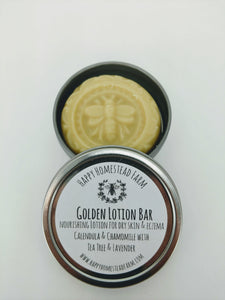 The soothing effects of our Golden Salve in a convenient lotion bar. Calendula and Chamomile combine to hydrate and heal dry, damaged skin. If you're dealing with eczema or psoriasis, this is the lotion bar for you. 
Contains: Organic Olive Oil, Organic or Wildcrafted Herbs (Calendula & Chamomile), Natural Fair Trade Shea Butter, Organic Coconut Oil, Natural and/or Organic Beeswax, Organic Evening Primrose Oil, Tea Tree & Frankincense Essential Oils
These statements have not been evaluated by the Food and Drug Administration. This product is not intended to diagnose, treat, cure, or prevent any disease.