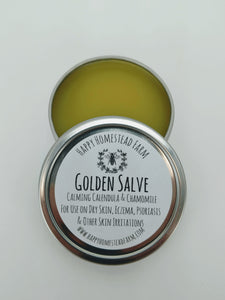 Why suffer from dry, irritated skin when you can naturally hydrate and calm with Calendula and Chamomile? Our Golden Salve combines the powerful anti-inflammatory properties of Calendula and Chamomile with Tea Tree and Frankincense. This salve is our go-to for eczema, severely dry or chapped skin, acne, rashes, and other skin irritations. Our Golden Salve is a must for the medicine cabinet. 
2 oz.
Contains: Organic Olive Oil, Organic or Wildcrafted Herbs (Calendula & Chamomile), Organic and/or Natural Beeswax, & Tea Tree & Frankincence Essential Oils
These statements have not been evaluated by the Food and Drug Administration. This product is not intended to diagnose, treat, cure, or prevent any disease.