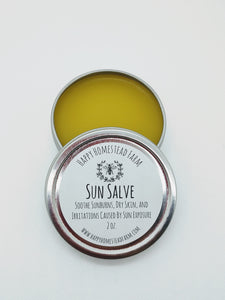 Say goodbye to painful sunburns and dry skin! Our Sun Salve has been formulated to provide fast relief from burns and skin irritations caused by too much sun exposure. To turbo charge the relief, apply this salve right after a cool shower. It will quickly become your summertime go-to!
2 oz. 
Contains: Organic Olive Oil, Organic or Wildcrafted Herbs (Calendula, Lavender, Plantain, & St. John's Wort), Natural Beeswax, Peppermint & Tea Tree Essential Oils
These statements have not been evaluated by the Food and Drug Administration. This product is not intended to diagnose, treat, cure, or prevent any disease.