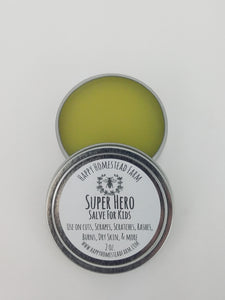 Our original Super Salve has been reformulated for the little super hero in your life. This salve swoops in to the rescue when cuts, scratches, burns, sprains, rashes, dry skin, insect bites, and the average owie show their face. It will quickly become your little one's favorite sidekick. 
2 oz. 
Contains: Organic Olive Oil, Organic or Wildcrafted Herbs (Calendula & Plantain), Organic Beeswax & Lavender Essential Oil
These statements have not been evaluated by the Food and Drug Administration. This product is not intended to diagnose, treat, cure, or prevent any disease.