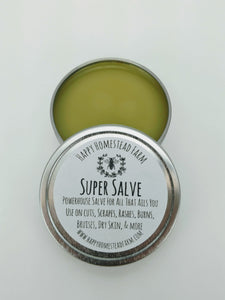 Our original Super Salve is the powerhouse of skin care. This salve packs a punch on cuts, burns, sunburns, scrapes & scratches, sprains, rashes, dry skin, insect bites, poison ivy, and just about anything else that ails your skin through the magic of medicinal plants. A tin of Super Salve is the first line of defense at the Happy Homestead and will soon be at your home too! 
Fun fact: Super Salve is the product that started our business. Dagny created this salve to help Dan with a cut that required a row of stitches rivaling Frankenstein's monster. So many of our friends and family began relying on the salve themselves, they encouraged us to sell it. Today, we refer to it as our "flagship" product. 
2 oz. 
Contains: Organic Olive Oil, Organic or Wildcrafted Herbs (Calendula, Comfrey, Plantain, & St. John's Wort), Organic Beeswax, & Lavender Essential Oil
These statements have not been evaluated by the Food and Drug Administration. This product is not intended to diagnose, treat, cure, or prevent any disease.