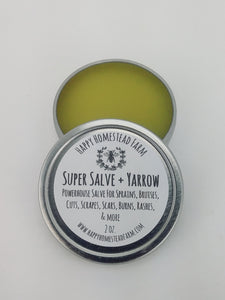 Super Salve plus Yarrow combines all of the benefits of our original Super Salve together with the power of Yarrow. If you have an old lingering skin issue that you have been struggling with for far too long, it's time to call on Super Salve + Yarrow for some assistance. Yarrow is up for the challenge. Yarrow is known for it's ability to go to work on those old stubborn, slow to heal skin issues and assists with bruises and swelling. Though, this salve is also the perfect match for those new skin issues like cuts, burns, scratches, scrapes, rashes, bee stings, poison ivy, sprains, broken bones, and just about anything else that ails you.
2 oz.
Contains: Organic Olive Oil, Organic or Wildcrafted Herbs (Calendula, Comfrey, Plantain, St. John's Wort, & Yarrow), Organic Beeswax, & Lavender Essential Oil
These statements have not been evaluated by the Food and Drug Administration. This product is not intended to diagnose, treat, cure, or prevent any disease.